Home
Parents,
Please, Please subscribe to my teacher webpage to keep up to date with things going on in your student's class, also subscribe to your student's class page.
I graduated from Stephen F. Austin University with a Bachelor of Home Economics with a specialization in Interior Design and a minor in Art and Business. I later went to the University of Houston to obtain my teaching certificate. I am certified in three different areas- Art-1-8, General Education-1-8, ESL-1-8.
My schedule this year consists of Art II and Art III classes. This will be my 19th year of teaching art the last 17 have been at Willow Wood Jr. High and the other two in Spring Independent School District.
Well, here we go on a new and different school year. I am looking forward to seeing what creative art pieces that my students are able to create. Good behavior is expected from each and every student in my class. We will be exploring a lot of new concepts and skills in my class this year and I look forward to helping each student to be successful and develop their art skills as we progress through the school year. Please log in to Schoology and find your class for all assignments.
My schedule for the year:
1st period- 7:30-8:15 7th Art II
7: 30-8:19 8th Art II
2nd period- 8:32-9:19- Conference
3rd period- 9:12-9:57 8th Art III
4th period- 10:01-10:46 8th- Art III
5th Period- 10:42-1:09 8th Art III
6th period-1:09-1:54 7th- Art II
1:13-1:58 8th- Art II
7th period-2:02-2:50- 8th Art III
REQUIRED SUPPLIES FOR ALL MY CLASSES
Student Art Supplies- Only used for Art Class, IF SUPPLIES ARE LOST OR USED COMPLETELY PLEASE BUY MORE
● Sketchbook ○ 8.5"x11" or 9"x12" spiral or hardbound
● #2 pencils ○ Quantity of 12
● Eraser
● Colored Pencils ○ at least a set of 24 or more- please DO NOT BUY COLORIFIC OR ERASABLE COLORED PENCILS
● Sharpener
● Scissors
● Glue stick
● Elmer's glue
● Ruler
● Sharpies 4 black extra fine ○ 4 Black fine (normal)
● Sharpies Colored - At least a set of 12 different colors
● Pencil Bag or box for supplies
● For TVS students only- 1 white poster board
●For F2F Students only 1 spiral notebook
TUTORING DAY:
I will be able to stay after school from 3-4, students just need to let me know.
Contact information
Cerethia Fontana
Willow Wood Jr. High
11770 Gregson Rd.
Tomball, Tx. 77377
Email- cerethiafontana@tomballisd.net
281 357-3030 ext. 1284
Conference- 2nd Period-
My teacher website-Go to the Willow Wood Jr. High website and look for my last name:
http://wwjhs.tomballisd.net/
Class Mission
Art II and Art III students are allowed to express
themselves through various media. The students will be exposed to art history; masterpieces of artwork, and discover the elements and principles
of design. Students will develop skills through "hands-on" experiences in
the art room.
Art II and Art III are considered an elective credit for Jr. High students
and a full-year course.

Grading Guidelines
Major assignments shall constitute 60% of the grade per reporting period. Other assignments shall constitute 40% of each grade per reporting period. Teachers are required to provide at least three major assessments/grades and at least nine other grades (daily grades) during each grading period. Teachers are highly encouraged to provide more assessments as appropriate. For my class, there will certainly be more in each area.
For instance:
Warm-ups grades are Daily grades and there will be one for each week of school.
Sketchbook assignments are Major grades and will be assigned every two weeks starting soon. Students will be able to work on their sketchbook assignments one day during the 2 week period after it is assigned and can work on it also when they have completed an assignment. Sketchbook assignments will be listed each time they are assigned on my teacher's Web page. Teacher web-http://wwjhs.tomballisd/ look for my name under the school directory. Then look for Art II or Art III. Sketchbook assignments are different for each class.
Regular assignments may vary and students, when given an assignment, will be told if it is a Daily or Major Grade.
Late Work- 1 Day Late= 15 points off
2 Days Late= 30 points off
After that= 0
"Students will be given the opportunity to master the curriculum and to improve one major grade per grading period according to the following guidelines: Offered to all students who have failed a major grade assessment. The content will be determined by the teacher. The maximum score will be 70. No assignment will be given to students who previously earned a 0. The assignment will be offered at the end of the nine-week grading period."
All grades will be up to date on Fridays unless I am absent that day.
Late work: Work will be accepted up to 3 days late with 10 points taken off for each day late. After that time students will receive 0.
Feel free to call me during the conference time period 9 with any concerns or questions. I will return phone calls within
24 hr. time period unless I am absent that day.
Parent volunteers are always welcome, especially when we are doing clay. You must be on the approved volunteer list. You can find that form by contacting Melinda Harrell at the school's front desk.
Wish List for my classes-
yarn, newspaper, empty power towel and toilet paper rolls, pipe cleaners, sharpies (any color), masking tape, glue, colored pencils
Thank you,
Cerethia Fontana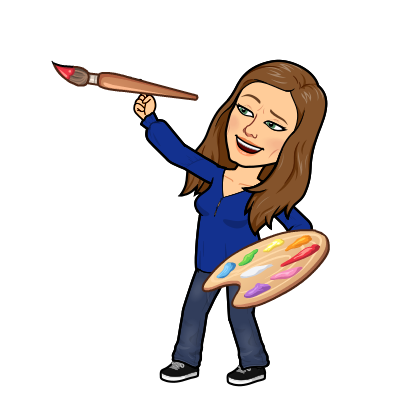 Art teacher
When emailing please go to the Tomball/Willow Wood website/Staff directory
and select my name to send me a
message
. This will help your emails to
not be placed in Quarantine
email
.